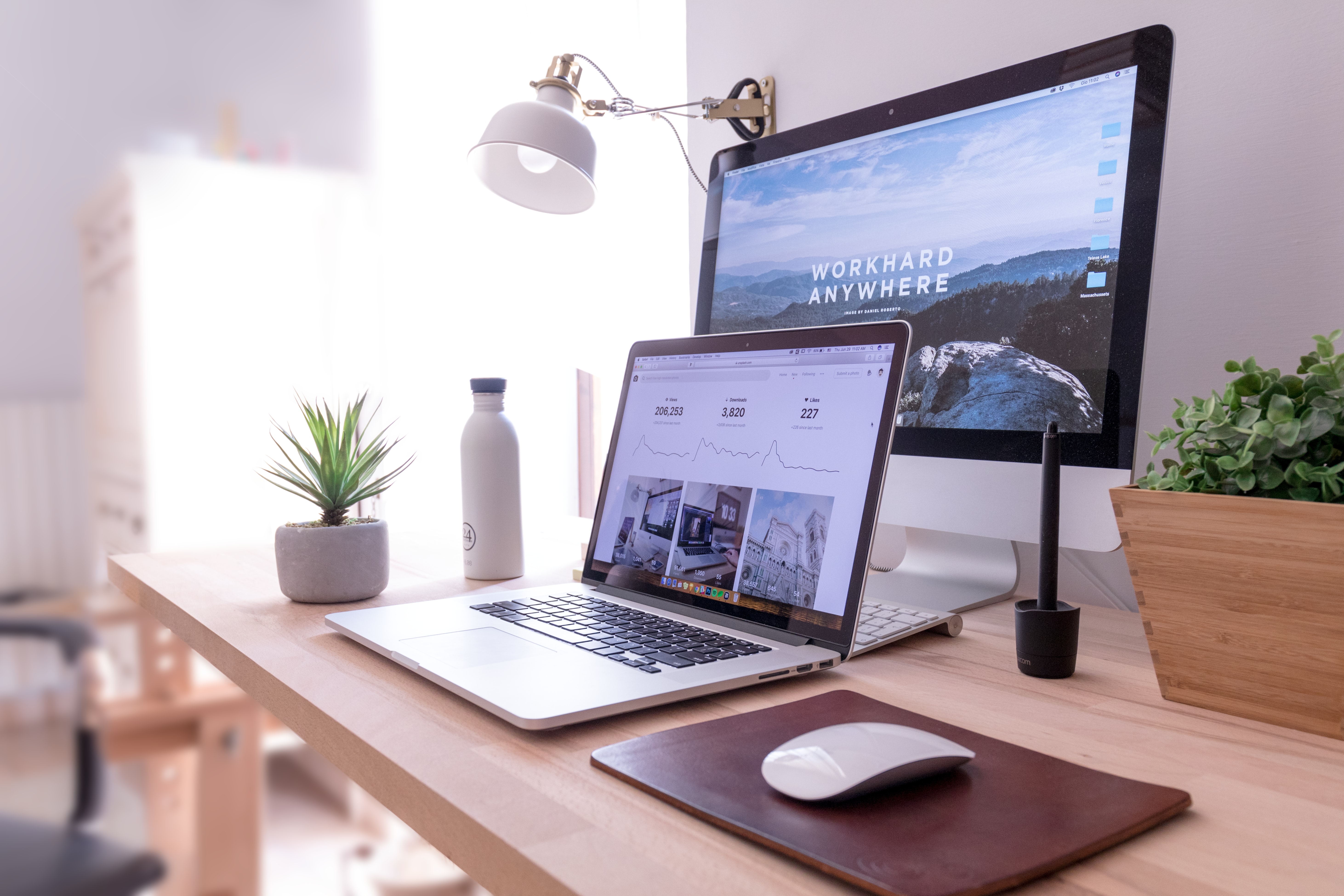 Over the last decade or so, home and remote working has increased dramatically, as technology allows us to stay connected and work collaboratively with ease, and employers allow staff to work flexibly to help with work-life balance. 
A recent ONS Labour Force Survey found that 1.54 million people now work from home for their main job, and the BBC's Wake Up to Money programme noted that there was a 74 per cent increase in people working from home between 2008 and 2018. On top of this, there are 4.8 million self-employed people in the UK, who regularly work from their kitchen tables hustling and grinding, driving their businesses forward.
The COVID-19 crisis has forced the entire country to take on the remote model and rapidly get to grips with home working, with 42% of Brits now working from the comfort of their own homes. Although we can't work from local coffee shops like many freelancers did before the situation unfolded – we can make our home working period as productive and calm as possible, to ensure that we all stay sane, stay happy and keep on trucking.
Here are seven steps for success when working from home. 
Set a routine 
Firstly, set yourself a routine and stick to it. Set times for waking up, exercise, meals and  work time. Get dressed every day. You don't need to be militant, and you don't need to beat yourself up if you don't follow it to the letter, but having a plan in place will make you feel more in control in a situation where we all feel very anxious and unsettled. 
You can allocate times where you can get your head down and get stuck in to work, so you boost your productivity levels and meet all of your targets.  Set yourself goals, and even schedule in some treat times (think biscuit and a brew!) for completing tasks and projects as you go along. 
Make sure you have the tech
We are unfathomably lucky that we have the technology to support home working in this unprecedented situation, so take advantage and download apps and platforms, such as Google Hangouts, Zoom, Google Docs, Monday or Basecamp to ensure you can stay connected to your teams and colleagues. 
Create a workspace 
You may be lucky enough to have a home office, but if not, create your own space for home working where you can feel calm and stay organised. It might be your kitchen table, it might be a corner of the living room or bedroom, but wherever it is, create a space that makes you feel empowered and ready to crack on.
It can be tempting to work from the sofa in your PJ's, but this may not be the best solution for productivity. 
Also, if you have a proper office chair, use it. Ergonomic chairs will support your back and help you to sit up straight to prevent back pain and poor posture. 
Remove your distractions 
If the TV or radio distracts you, turn them off. If Facebook or Instagram suck you in and you find yourself flicking through your ex's holiday pictures from 2008 within five minutes of logging on, consider deleting the app or moving it to a far flung, hidden corner of your tablet or laptop. 
When you are at your workstation, do your best to remove the things that distract you and you will feel far more focused.  
Alternatively, if you are disciplined enough, allocate times during the day where you can allow yourself time to check out social media, check your WhatsApp messages and reply to your friends. 
Get some fresh air and make sure you take breaks
Although we have strict rules in place about leaving the house for fresh air and exercise following the government's announcement, it can be easy to work through the day and not go out if you have a lot on.
It's imperative for your own wellbeing that you take breaks, and get fresh air and exercise where you can. So follow the social distancing rules, go for a brisk walk, open your window or go for a mooch around the garden. You'll feel better afterwards and the regular breaks will actually help you to stay productive and happy. 
Eat healthily and drink lots of water
It can be very tempting to snack on unhealthy foods or graze all day when you're cooped up at home, but do try to stay healthily and eat well. 
Drinking water throughout the day will also boost your hydration levels that may be zapped by central heating, and ensure that your brain staves off the effects of dehydration which can result in impaired short term memory function and focus.  Drinking water regularly will also help your body deliver essential nutrients to your brain and organs, so keep a bottle with you at all times and fill it up throughout the day. Aim to drink at least two litres a day, and if water isn't your thing then adding cordial or drinking a brew in between each bottle can ensure you still keep hydrated.
Have a cut off point
This can be a tricky one to nail, but try your best to set a cut off point for work and stick to it.  It can be super easy to carry on working throughout the evening and night, but for your own wellbeing it is better if you don't. Additionally, your clients are unlikely to be checking their emails at 9pm so ask yourself, "can it wait until tomorrow?", if the answer is yes then log off. 
If needs be, add an out of office to your email which sets out your working hours and add your phone number for any urgent out of hours requests, that way you'll feel more in control and less anxious about ignoring your emails during these times. If you have email accounts on your phone, consider muting or switching off your notifications so you are not waylaid or suckered in by late messages.
Ditch the screen time before bed 
It's common knowledge that using screens before bed can affect your sleep, but that doesn't stop most people from checking their social media accounts before they set their phone alarm and go to sleep!  According to the Sleep Foundation, using TVs, tablets, smartphones, laptops, or other electronic devices before bed delays your body's internal clock (also known as your circadian rhythm), suppresses the release of the sleep-inducing hormone melatonin, and makes it more difficult to fall asleep. 
Consider leaving your phone to charge in a separate room, and invest in a traditional alarm clock for your bedside. 
Getting a good sleep will mean that you have more focus and clarity when you wake up, ready to attack another day and meet your goals.