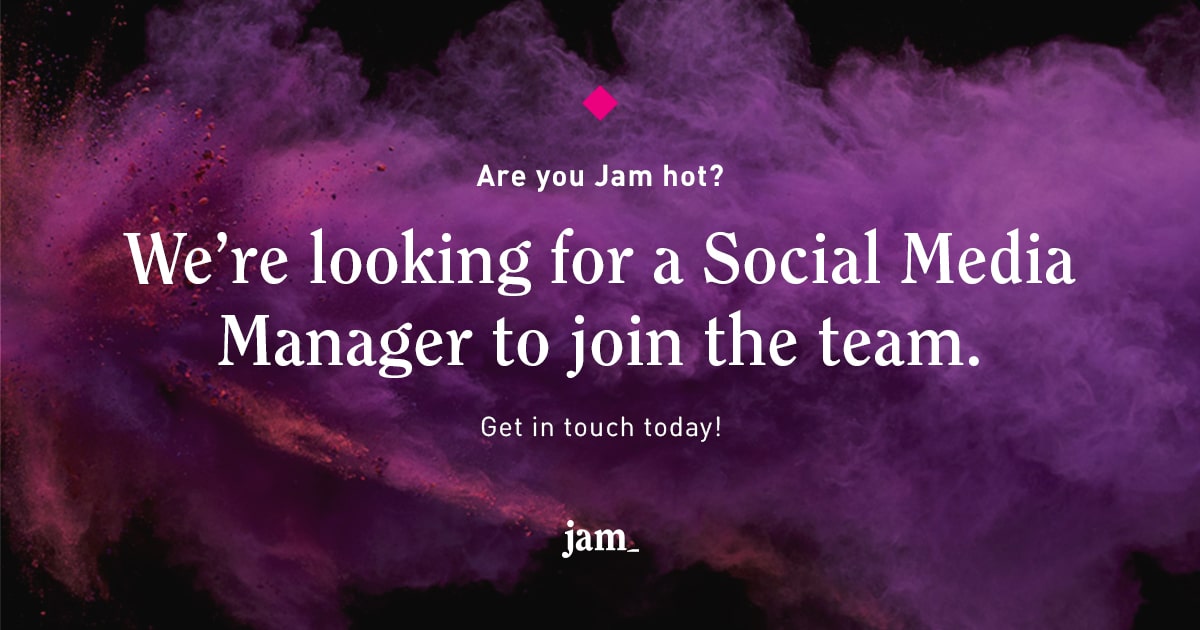 Hey, social media kings and queens! Want to Jam with us?
We're looking for a highly motivated and proactive Social Media Manager to join our outstanding team and work across both B2B and consumer accounts.
Our new Jammer will be working alongside a great team for established brands within the Personal Finance, Leisure and Property sectors, among others.
You'll be responsible for planning, creating, improving and maintaining social media channels for clients, and also Jam, across organic and paid activity. You'll also share content to raise brand awareness and monitor web traffic and metrics to identify best practices.
Our ideal Social Media Jammer is an experienced professional with demonstrable creative social media skills, performs well under deadlines and pays intricate attention to detail. It also won't hurt if you're proficient in content optimisation and brand consistency.
Ultimately, you will work with the PR team to ensure online activity marries with offline objectives and oversee all social media initiatives to ensure solid engagement and brand consistency.
Proven social media skills
Solid understanding and delivery of paid for social media strategies
Creation and implementation of social media strategies
Impeccable reporting
A clear understanding of B2B and consumer clients, with proven results
The ability to work under pressure, whilst maintaining high standards
A minimum of 18 months social media experience, preferably within an agency
Excellent communication skills
Great creative thinker
The ability to work in a strategic and proactive way
Basic technical knowledge of HTML and web publishing
Knowledge of SEO and web traffic metrics (including Google Analytics)
Attention to detail
Good organisational and time-management skills
Above all we're looking for a positive, can-do attitude.
Develop social media strategies aligned with marketing, PR and wider business objectives
Collaborate with clients to plan and develop content, style and layout
Create, publish and optimise engaging social media content – organic and paid
Edit, proofread and improve social media copy (and content if this is a skillset of yours)
Use Google Analytics to analyse web traffic and engagement metrics
Manage budgets and content distribution to online channels and social media platforms to increase web traffic
Develop a social media calendar aligned with wider marketing activity
Ensure compliance (e.g. copyright and data protection)
Stay up-to-date with developments and generate new ideas to draw audience's attention
Regular client interaction
Monitoring clients' industries, immersing yourself in their industry news
Contribution to campaign strategies
The opportunity to work with leading brands
A positive and fun work environment
A great team and support network
Autonomy to bring your own creativity to the mix
A bonus structure
Very generous holidays
Flexible working
Continuous training
If you've got what it takes to become our next Jammer, send your CV and details of current salary to hello@wearejam.agency
Salary dependent on experience
Location: Northern Quarter, Manchester City Centre
NO AGENCIES
Want to see our stuff?
Have a nosey at all of our latest PR and creative
projects to see what we've been working on lately