Silver Marketing Association Member | CIPR | MPA Inspiration Award
Vox Money
Amplifying the voice of the people with Vox
We named, created and launched an exciting new financial services brand to the market.
6k
Visitors to site
in the first month
Moving to a different beat with Vox Money
Vox Money is a new online e-money account giving those underserved, excluded or seemingly ignored by high street banks access to the modern world of money management.
Brand Position
& Narrative
SEO
Digital Strategy
& Outreach
Content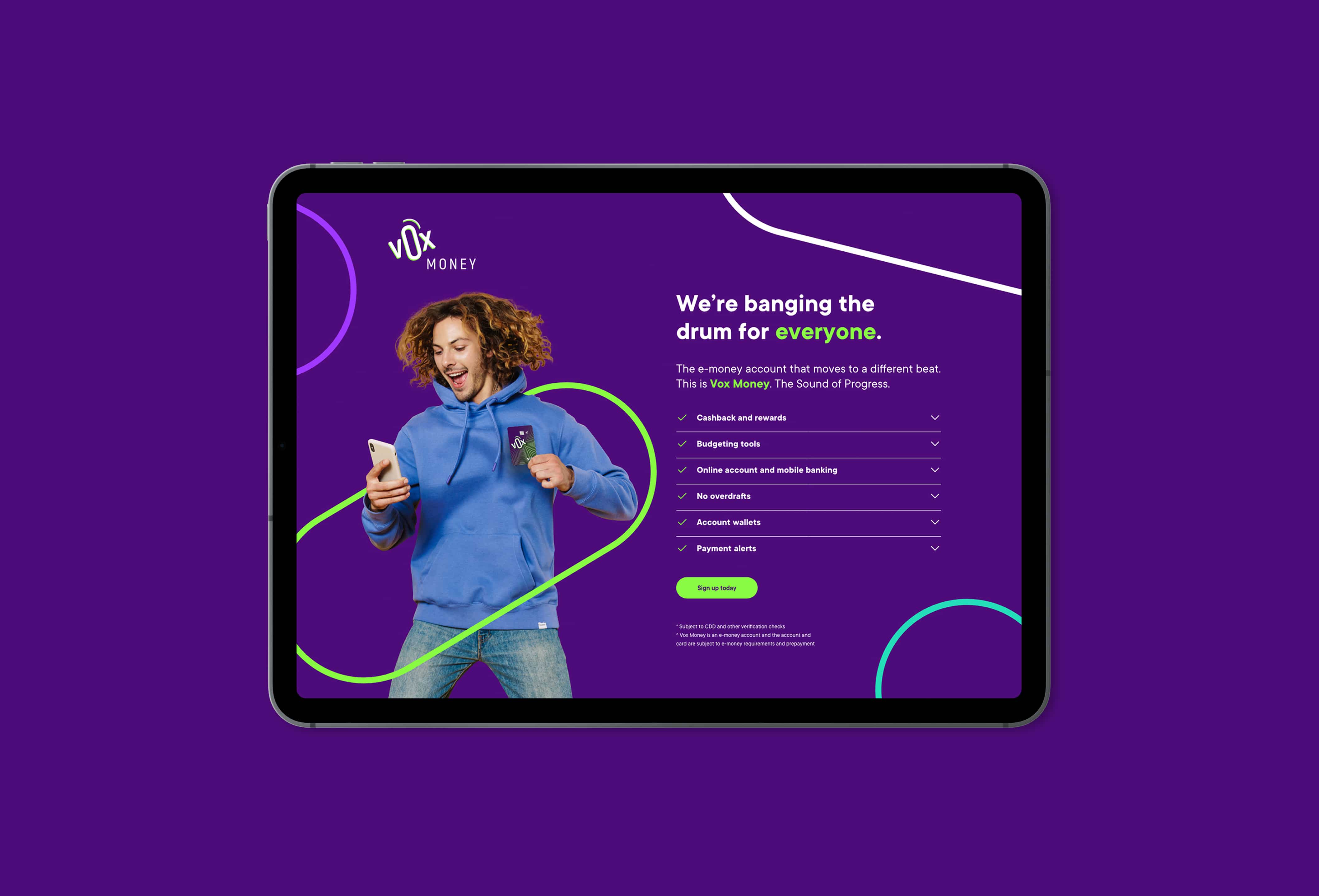 The Challenge
Create a new consumer finance brand targeting those underserved by the traditional banks and launch the brand while creating significant stand out in a crowded market and driving sign ups from a niche audience.

The Extraordinary Thinking
Launching a new consumer finance product into a crowded market involved in depth research into the different audiences to find out what made them tick. From there, brand workshops followed, culminating in the naming of Vox – a powerful brand with a defined purpose, set values and clear messages all set out by Jam.
Branding and creative
Our naming process led to the creation of Vox, for which we created a strong brand narrative and proposition, which guided our creative direction. A suite of brand assets brought Vox to life and helped to deliver the messaging to the target audience.
Blogs
We increased organic search traffic with regular optimised content aimed at engaging and informing target audiences and answering finance search queries. We also repurposed the blogs to share with media and shared across owned digital channels to generate further traffic to the website.
Web design and development
We designed and built a mobile optimised website, prioritising user experience, design and functionality.
SEO
Web content was based on keyword research with the aim of increasing Vox's Google page-ranking by answering our audience's search queries.
E-shots
We produced email newsletters to build a community for Vox, while delivering strong sales messages in order to convert and upsell readers.
Organic and paid social,
search and display advertising
We launched Vox Money through a range of digital tactics including organic and paid social media driving qualified leads, engaging consumers and sharing the brand's expertise. Paid social significantly increased reach whilst encouraging website clicks and sign-ups. We retargeted consumers to increase card activations, utilised paid search and display to reach customers throughout the different stages of the funnel, driving sign-ups.
Like what you see?
Jam with us and see how we can help you out.
All we need is a few details about your project.
Voted Best Full Service Agency and Best PR Agency at The Talk of Manchester Awards