Influencer marketing has soared over the last few years, as more and more brands are starting to recognise the many benefits that influencers can bring.
In fact, Social Media Today claims that influencer marketing is set to become a $5-10 billion industry by the end of 2020.
Businesses are turning to influencer marketing as it is a great tactic for raising brand awareness, reaching your target audience, and generating leads and sales. It also offers a high Return on Investment (ROI), 11 times higher than traditional forms of digital marketing.
Here are three brand campaigns which demonstrate the power and value of incorporating influencers into your marketing strategy.
The fitness industry gets bigger every year and doesn't show signs of stopping. Instagram is a popular channel for many fitness geeks. It's often the number one go-to place for fitness advice, motivation and even example workouts.
One of the leading fitness clothing brands, Gymshark, looked to Instagram for its influencer campaign with a '66 days to change your life' challenge. The premise of the campaign came from the idea that it takes 66 days to form a habit.
Gymshark capitalised on this by asking people to choose a personal goal and upload a photo to Instagram. Lo and behold, 66 days later, you uploaded the original image with an updated photo. While the campaign was aimed at getting individual users engaged with the challenge, and therefore the brand, it utilised influencers to get their brand out there.
Partway through the campaign, however, Gymshark transferred over to Instagram competitor platform, TikTok. The video-sharing platform has rocketed in popularity and now has 800 million monthly users. This meant Gymshark could further expand its reach and increase its visibility in front of its target demographic.
Gymshark specifically targeted TikTok influencers, or 'creators' as they're more commonly referred to, as these had more followers on the platform than on Instagram. These included six influencers across the health, fitness, lifestyle and dance categories, such as Rybka Twins and Twin Melody.
The overall aim of the campaign was to raise awareness of its brand and products, and to ensure its brand is front of mind for people looking to get fit.
Utilising a personal challenge meant Gymshark could create a meaningful connection with their target audience. The involvement of influencers enabled Gymshark to increase the reach of its brand and provide credibility through the association with influencers to position Gymshark as the gym clothing of choice.
Its 66-day challenge reached 19.8m TikTok fans, generated 1.9m likes, 12.5k comments and 45.4m views of the campaign hashtag.
Dyson is often thought of as the market leader in vacuum cleaners. However, it still needs a forward-thinking marketing strategy to continue to reach its target audience.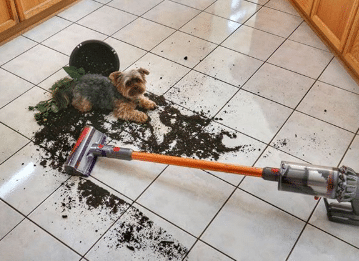 One of the big pet peeves for pet owners across the world is getting rid of pet hair around the home. Dyson wanted to raise awareness of its own range of vacuum cleaners which could tackle this problem.
It opted to partner with 'petfluencers', literally pet influencers, to raise awareness and engage with its target audience. Dedicated pet social media accounts are huge. In fact, animal accounts often outperform humans – just ask our resident petfluencer, Frenchie Maurice!
Dyson teamed up with a range of micro, mid-tier and nano influencers, including Little Leo Morkie, Aqua the Corgi, and Mochi.
As a result of the campaign, Dyson was able to target 1.2m additional Instagram followers it wouldn't have reached previously. It also generated 115k likes, and 1.9k comments, and saw an engagement rate of 10.78% – nearly 10 times higher than the industry average.
Ultimately, the success of this influencer campaign was not only as a result of capitalising on a popular trend, but it was also a natural brand fit and it felt authentic – vacuum cleaners and pet owners go hand in hand.
A more non-traditional example of a brand using influencer marketing is KFC, who chose to mock the rise of influencers in a recent campaign.
When you think of KFC, the first thing that comes to mind is probably (obviously) chicken. The second thing… its legendary founder, Colonel Sanders, who, to this day, is still the brand's ambassador and featured on its logo.
In 2019, KFC decided to capitalise on its much-celebrated founder. It collaborated with other established brands, Dr Pepper and Old Spice, to create a virtual influencer version of Colonel Sanders.
While we're sure there would have been plenty of macro-influencers out there who would have snapped up the opportunity for this campaign, KFC decided to create its own version.
With a parody take on the many Instagram influencers who tend to parade their wealth and luxury for all to see, KFC was able to stand out from the other brands out there with its non-traditional approach.
The overall aim of this bold campaign was to drive engagement and reach a more millennial audience. Where better to reach them than the millennial platform of choice…Instagram?!
Although the campaign only ran for two weeks, it still generated 130k likes and 2.5k comments. It also saw media coverage across a variety of national media titles, such as The Sun.
We're no strangers to influencer marketing ourselves! We recently hosted some of Manchester's finest food and lifestyle influencers for a Vegan Menu launch at our client, Printworks' venue, Wagamama. Check our Holly Goes Lightly's review!
Are you looking to incorporate influencer marketing into your business strategy? Get in touch with us today to see how we can help. Call 0161 850 0565 or email hello@wearejam.agency.