Earlier this week, we tuned into the eagerly anticipated Apple Event to get our geek on! We watched the world's tech leader eat a big slice of Apple-flavoured humble pie, as it embraced the wonderful world of PR.
The move was likely to recoup the drop in sales with not one but three new smartphone launches; the iPhone 11, iPhone 11 Pro and iPhone 11 Pro Max. Its hows a very significant shift in the times, as the brand has previously strayed away from moving with the crowd and setting its own trends.
Making innovation predictable
Over the past few years, Apple has been somewhat predictable. While its groundbreaking products are supposed to have the wow factor, the well-rehearsed routine, which lists the product specs has become a little stale.
Back when iPhone was the only smartphone to be as technologically advanced as it was, their launch events were everything. The "look at this, it's the best, now give us your money" approach worked, and Apple's confidence stood out. However, competitors caught up with arguably as good products at a cheaper price and Apple began to fall behind. iPhone sales saw the biggest hit ever as a result, with a drop of 17 percent in the first quarter of 2019.
While Apple stuck with the belief that brands set the agenda, the world – and consumers – changed around them.
Consumers are now looking for brands that resonate with them personally and that tell a story, whether they're buying a bag of frozen chips or a new phone. It's why brands like McCain have launched ads showing a diverse range of people enjoying its food. The 'We Are Family' campaign followed research that suggested 84 percent of people couldn't recall seeing a family in popular culture that they identify with. After listening to the public, the ad featured people of different races, LGBTQ+ couples and people with disabilities.
Even big brands are tapping into the political climate as it's noted when they are silent on big issues. Take Nike, for example, which partnered with a key figure in the Black Lives Matter movement.
NFL player Colin Kaepernick was ousted from the League due to his choice to kneel during the national anthem to protest police brutality against unarmed black citizens. During the scandal, Nike launched the simple yet powerful image of Kaepernick's face, with the tagline, "Believe in something. Even if it means sacrificing everything. Just Do It."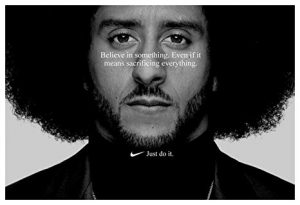 While the campaign also included other athletes at the top of their game, such as Serena Williams and LeBron James, Colin Kaepernick divided opinion.
Racists Protesters launched a #JustBurnIt challenge on social media, where they set their own Nike gear (that Nike had already profited from) alight.
Overall, it was a huge win for Nike, which reported $6 billion in earnings in the year following the campaign.
With the majority of brands using customer insights to lead their messaging, Apple finally followed the crowd.
Humanising the Apple brand
The approach to previous events have been clinical, timed perfectly to the second in a very robotic fashion. This one, however, had a different feel to it.
Apple has wiped away the clean black, white and chrome and embraced the entire colour wheel for a vibrant and energetic display.
Not only that, the presentation led with human imagery, placing a key focus on how humans interact with the products, which was a first for Apple. We even saw the ultimate PR tool – case studies!
When Apple launched the Series 4 Watch with a built-in ECG, it really did change (and in some cases save) lives. Instead of presenting statistics on customer satisfaction ratings, it shared stories of genuinely satisfied customers.
The case studies used were intended to have an emotional connection with consumers, from people who wouldn't be here if it wasn't for the heart rate monitor, to customers who had transformed their lives with the exercise reminders, including a little boy with autism who was able to cut out the world with music from his watch and follow his passion of running for a cross country team.
Storytelling through real life case studies really sold the product as it had us questioning whether £399 is actually a lot of money when we're talking about the life changing benefits of owning said product.
While Apple is getting the hang of leveraging PR tactics to its advantage, its stubbornness has seen it left behind plenty in the past.
Samsung launched an advert mocking iPhone for the standard and plus models, headphone jack removal, lack of waterproof models and no wireless charging feature, while Android phones offered all of these features in one device.
This is where we'd embed the advert, but it was mysteriously deleted just before Samsung announced the Galaxy Note 10, which came in two sizes and had the headphone jack removed – how strange!
Apart from learning that PR is a very good investment, what we can take from this is that not even one of the biggest companies in the world can survive on brand name alone and must connect with consumers on a deeper, more personal level.
With this shift, we expect to see Apple make use of more consumer-facing features, especially social media. While the brand is fairly active on Instagram, the Facebook page has not been updated since 2018 and it has never tweeted.
These customer-facing platforms are scary for big brands, which have a responsibility to offer a level of customer service. Despite it being a direct line between brand and customer, Apple has never engaged on social media – only from it's support pages. However, with the new customer-first approach it embraced at the event, it's the ideal time to start making contact using it's feel-good case studies to connect with audiences.
Want to connect with your customers on a personal level via PR and social media? Get in touch!