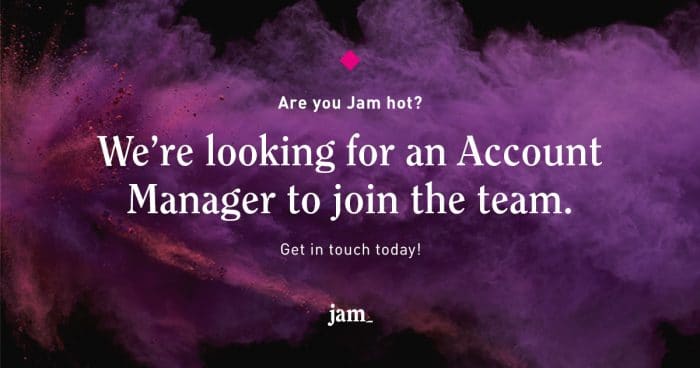 Jam has started 2019 with a bang! To support this year's growth, we're looking for a highly motivated PR Account Manager to join our outstanding team and work across both B2B and consumer accounts.
Our new Jammer will be working alongside a great team on national projects for established brands within the Personal Finance, Leisure, Public Sector and Property sectors.
This is a fantastic opportunity if you're looking to take the next step in your career and have the ability and experience to work across a portfolio of accounts effectively.
You will manage a small team and will be responsible for PR and social media for a range of big name brands. Responsible for the successful running of assigned accounts, you will be responsible for planning, account outputs, budgets and client queries. As the day-to-day client contact you will manage and nurture solid client relationships.
In our new PR Account Manager, we're looking for:
Proven writing skills
A solid understanding of B2B and consumer accounts, with proven results
Solid client engagement
Digital experience, including social media and analysis
Solid media relations
The ability to work under pressure, whilst maintaining high standards
A minimum of 2 years experience within an agency
Experience of wider marketing
Excellent communication skills
Great creative thinker
The ability to work in a strategic and proactive way
Above all we're looking for a positive, can-do attitude.
Supporting the team in the management of accounts on a daily basis
Regular client interaction
Monitoring clients' industries, immersing yourself in their industry news
Writing press releases, features, copy, award entries etc
Contribution to campaign strategies
Planning
Attending regular client meetings
Actively participating in business development
Social media management and analysis
The opportunity to work with leading brands
A positive and fun work environment
A great team and support network
A bonus structure
Seriously generous holidays!
Continuous training
An office dog!
If you've got what it takes to become our next Jammer, send your CV and details of current salary to hello@wearejam.agency