We love getting imaginative with our clients. There aren't many better ways for generating brand awareness than a creative idea. 
Here are four reasons why PR stunts can work for your business, and some examples of successful creative campaigns…
It can create a real talking point
One company who is no stranger to grabbing widespread media attention for its PR stunts is Paddy Power. Its past stunts have included featuring Ryan Giggs' brother as the face of its loyalty campaign, to resurrecting a 108ft statue of past England manager, Roy Hodgson ahead of the Euros. Paddy Power is not afraid to hog the spotlight – even if some of the stunts attract controversy!  
Its recent campaign saw the betting company team up as the sponsor of Huddersfield Town's new football kit. The news attracted quite a bit of controversy for its eye-catching design. 
However, in another turn of events, Paddy Power eventually revealed the real campaign message of 'Save Our Shirt'. Paddy Power was in fact removing its logo from the shirt entirely and effectively 'unsponsoring the team'. 
It's interesting to look at this particular PR stunt as, on the surface, Paddy Power seemingly has no purpose or vested interest in campaigning against football shirt sponsorship. However, the stunt enables Paddy Power to jump on a topic which has garnered much conversation in the sporting world. It also ensured they became a part of the conversation too. 
The stunt was successful as it created a real talking point and generated widespread brand awareness. Plus it also helped to position Paddy Power as a brand that shares the same values as its customers. 
It can provide an additional hook to a news story 
A PR stunt shouldn't work on its own, but in conjunction with an overall campaign. For example, online electrical store AO recently announced it was launching a new mobile platform. The campaign saw AO compile research to find the number one hotspot for people who bump into others as they're too busy looking at their phones. Surprisingly, or maybe not, Manchester came out in the top spot. 
Statistic-focused stories, such as this one, make great 'nibs' (news in brief) for the media. While the Manchester angle worked particularly well for securing regional media, it needed an additional hook to get widespread awareness. The answer? A PR stunt working as a supporting tactic to the overall campaign. 
The stunt saw AO introduce a dedicated 'slow lane' in Manchester city centre especially designed for the 'mobile phone zombies'. The simple but effective idea managed to achieve coverage in various publications across the UK. However, the angle also meant that the research AO had originally undertaken was also featured. 
Although AO is already a well-known company, the stunt ensured it could generate widespread coverage of its new platform and raise awareness, not only in Manchester, but across the whole of the UK too. 
It helps you build a connection with your customers
The purpose of a PR stunt doesn't just have to have the aim of generating media coverage. It can also be utilised to build a connection directly with existing customers, or even attracting new ones. 
In order to build a connection with your audience, your brand has to be remembered by them. A great way to ensure your brand is memorable for customers is through an experiential PR stunt. 
One example that worked particularly well was Coca Cola's AR experience to celebrate the 2018 Fifa World Cup. The activity involved individuals testing out their skills versus an AR version of footballer Xherdan Shaqiri.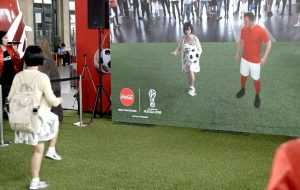 The result? Coca Cola managed to associate themselves with a well-known worldwide sporting event. Plus, it ensured individuals looking to quench their thirst throughout the event would place Coca Cola front of mind.
A successful stunt can help increase web traffic  
So what is the ultimate power of a PR stunt? Although the main focus of a PR stunt is to raise brand awareness and create a buzz around your brand, it can also help to increase web traffic.
Whether it's through media coverage or people who have directly experienced your brand, this interest can ultimately drive more traffic to your website. If you've directly engaged the interest of your target audience, not only will you see an increase in web traffic, but you may see an increase in leads and sales for your business too.  
Are you looking to inject more creativity into your brand? Looking for an agency who can help manage and strategise a PR stunt for your business? Get in touch with us by emailing hello@wearejam.agency or calling the office on 0161 850 0565.