Whether you're for or against Valentine's Day, there's no denying the holiday's marketing potential with 91% of the loved-up nation expected to celebrate the date.
It was a perfect opportunity for us to flex our social media skills and come up with some winning campaigns for our clients to let their voices be heard on a competitive topic.
We made it our mission to execute creative concepts that connected with the right people in the right places, and achieve clients' desired objectives.
Printworks
For our client Printworks, its bars and restaurants were packed on Valentine's Day – and we like to think our awareness campaign is a part of it.
Do you know what people love more than free stuff? Absolutely nothing, not even their Valentine. That's why our client decided to package up some amazing nights out at Printworks, with a leisure activity and meal for two to make a proper night of it, and give one away every single week in February.
With an objective of raising awareness of the centre's offering to support in increasing footfall and drawing in new customers, our brilliant Creative team put together a collection of creative elements to be used across social media, digital screen, web and e-shot.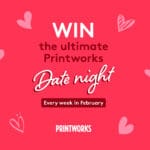 To accompany the Creative, we developed organic and paid social media content, targeting date-nighters in Greater Manchester to encourage them to enter the competition while raising awareness of the huge range of options at the centre.
Not only have we generated over 130k impressions in our key audience groups, we've seen a strong engagement rate of 6.7% for the on-page content. Now that's something to love.
Petsure
If you've witnessed the bromance between Maurice and our Creative Director, Dave, you'll know that soulmates sometimes come in four-legged form (Jaime who?). And our client, Petsure shares that value.
This Valentine's Day, we put pets in the picture, targeting the only two groups of people that exist; people with pets, and people who need pets.
For the people with pets, we asked Petsure's social media audience to tell us what their pet's dating profile would say, and share an adorable pic of their pets – just look at them!
Not only does it raise awareness of Petsure while positioning them as a brand that truly loves the pets it represents, but it generates fantastic engagement from pet lovers who jump at the chance to show off their fur babies!
Now onto the people who really needed this campaign – the ones who need a pet. Petsure has an established relationship with animal charity, Blue Cross, which provided us with the perfect opportunity to position Petsure as champions of the underdog and raise awareness of the collaboration.
Building on this partnership, we designed a campaign aimed at increasing awareness and engagement through the use of bespoke pet dating profiles aimed at trying to find the cats and dogs in the charity's care their forever home.
To keep the link to Valentine's Day clear, each 'dating' profile was designed in a recognisable format with key facts about each pet so their human soulmate can identify the pet for them.
The hashtag #PetsureDating was also set up to encourage the creation of User Generated Content, whilst allowing the best of this content to be easily recognised and shared.
The campaign was launched across Petsure's social media channels to target pet lovers in the UK, with a call to action aimed at engaging the audience. Blue Cross also supported the campaign through organic sharing, which further raises awareness of Petsure's charity links.
Our team had an amazing time spreading the love on behalf of our clients, and we can't wait for the next opportunity to flex our Creative skills!
We're the perfect match for your next Creative campaign! If the feeling's mutual, fill in the form below and let's get a coffee date in. Our place or yours?