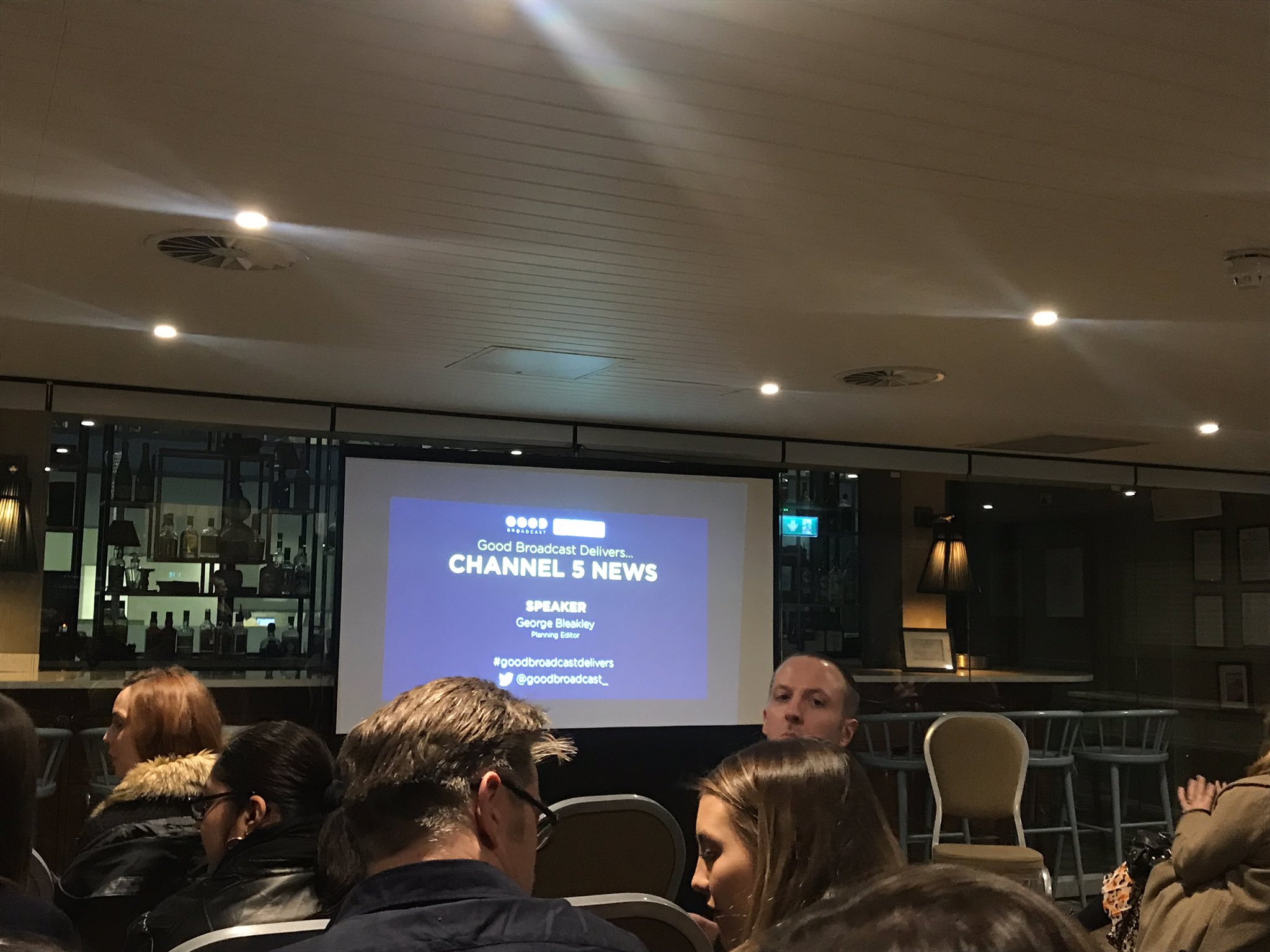 We're always looking to expand our knowledge with the latest tips and tricks. So when Good Broadcast got in touch, we RSVP'd almost immediately!
Although we have years of experience (12 to be exact!) of securing TV coverage, we're always keen to ensure our broadcast skills are top notch. After all, we're the agency whose key TV coverage includes securing our clients slots on the likes of Good Morning Britain and This Morning. And that's just a selection of our highlights from over the years!  
The event, in partnership with Channel 5 News' Planning Editor, George Bleakley, at King Street Townhouse – snazzy, we know! – gave us lots of useful advice for landing that much-desired TV coverage.
Here's our top five tips from the insightful event!
Breaking through from the crowd
The first thing George Bleakley highlighted was how many emails he had deleted from PR companies since his train from London to Manchester – 465! Although this didn't come to much surprise to us, we were instantly keen to hear how we can make sure we can stand out from the rest.
The main way we ensure our stories capture attention is by focusing on building a relationship with journalists. For example, George said he had a separate folder for PRs he had worked with in the past and had an existing relationship with. This meant their stories go to the top of the pile each time.
To make sure that we're always top of the pile, we don't just blanket-email our stories to journalists. It's important to keep up to date with the types of stories the journalist has previously covered. If we know the journalist's interests, we can tailor our pitches and stories to ensure it's right for them. This gives us the best chance of securing coverage.
It's all about the human element  
While we know it's important our stories are right for the journalist, it was also emphasised to us about ensuring our stories were right for the viewers too. Channel 5's principal focus is on people.
One thing we learned about pitching stories to Channel 5 is that it has to resonate with its viewers on a personal level.
We know that all too often the priority is often on getting the spokesperson heard. While other TV channels will happily feature talking heads and experts, we recognised the importance case studies bring to a story. This is especially true when Channel 5's focus is that stories have a direct impact on the people watching at home. Wherever possible, we like to use case studies to support our stories as it gives them greater credibility.
Although it was reiterated that Channel 5's remit is on human-interest news, the topic of the stories also have to be right for their specific audience. For example, Channel 5's audience is made up of 68% women. Similarly, most of their viewers are based outside of London.
We would never contact the same journalists with every single story we have ever. It has to be relevant to them! If we know from the start that a story wouldn't work for broadcast, or isn't relevant for that journalist, we wouldn't waste valuable time on trying to achieve it. To quote Mean Girls, stop trying to make fetch happen!   
It was also reiterated that even the same channel can require varying content depending on the news slot.
Channel 5's 5pm news slot tends to focus on more general and hard news stories. We would ensure the stories we pitch for this are topical and link to something already on the news agenda. The 6:30pm news slot however, is more discussion based, so will feature the more wacky stories. This gives us an opportunity for stories that are light-hearted and those which can create debate.
We were delighted to be reassured that Channel 5 welcomes survey-related stories. George said if a story has the right subject matter for their audience and the data is accurate, they're happy to explore it.
Having conducted a number of pieces of research for clients ourselves, we know that survey stories can work really well. This is because it can breake down information which might otherwise be missed or cause confusion for viewers.
The only other condition we heard is for surveys to have a minimum of 1,000 respondents and conducted via a reputable survey company. This is something which we already suggest to our clients to give the best chance of achieving plenty of coverage.
It goes without saying that any story aimed at broadcast media has to have the pictures or film to go with it.
However, it doesn't matter if you don't already have the pictures. It was positive to hear George say how they are willing to work with PRs to advise on pictures that would develop the story into a TV piece.
With our strengthened knowledge and understanding of pitching for TV, we're coming for you Channel 5!
Are you looking to secure broadcast coverage for your brand? Get in touch with our team on 0161 850 0565 or email hello@wearejam.agency.