Last week we were proud headline sponsors of the 2018 Talk of Manchester Business Awards (TOMs).
Having previously won five awards at the TOMs, recognised as Best PR Agency and Best Full Service agency for several years, we thought it only fair to step aside and let the rest of Manchester's great and good have the opportunity to pick up a gong or two. Not ones to shy away from the limelight, this time, we were presenting the awards.
The TOMs recognises Greater Manchester's elite SME support businesses. These include SEO companies, law firms, recruitment companies, IT support and accountancy, among many others.
The ceremony was hosted at a glitzy black tie event at the Mercure Piccadilly. It saw a massive 48 awards presented on the night. The PR, events, travel, leisure and creative sectors were all represented.
Our own Creative Director, Dave Gee, took to the stage to present the award for this year's Best Full Service Agency. We passed the mantle to our good friends at THIRTY30, which was truly well deserved.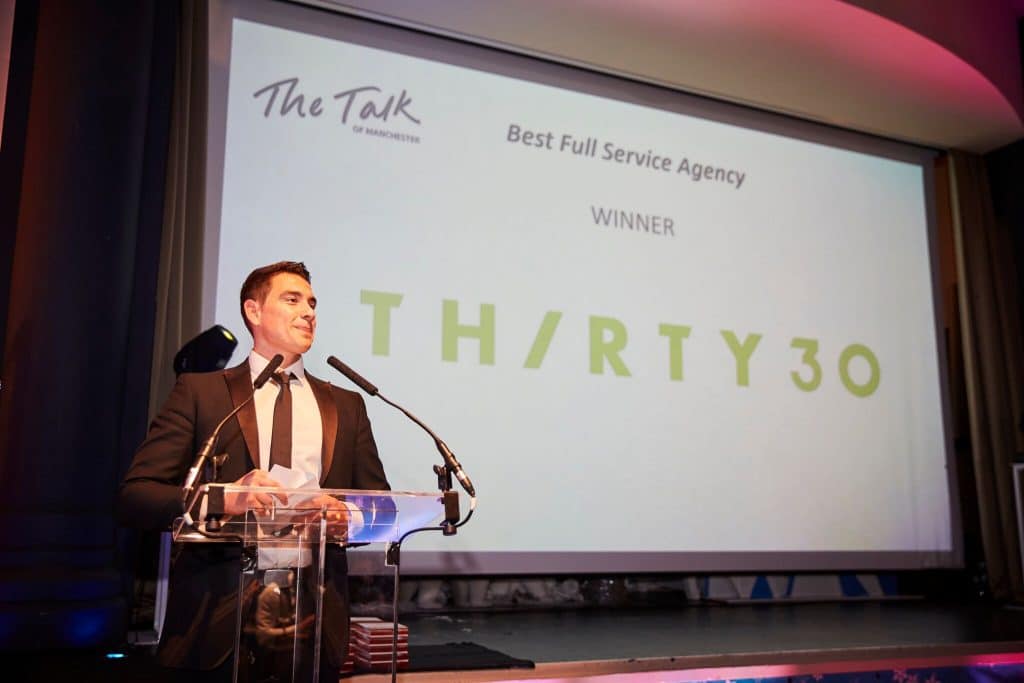 The big hitters on the night were accountancy firm Kay Johnson Gee (no relation to our MDs!) as the firm took home the hotly contested Business of the Year award.
Other big winners included Capstone Financial Management who won Best Financial Advisor and The Finegreen Group who were awarded Best Recruitment Company. Our prefered PPC partners, Clickoo picked up the gong for Best Search Engine Visibility (SEV).
Of course, we weren't just sponsoring the event as the Jammers were out in force to support all nominees. Also to take advantage of the prosecco!
With five wins under our belt, we know how hard the hangovers can hit, so we decided to send out much-needed survival kits for those in need! Chocolate bars, paracetamol, and Berocca were delivered to attendees and winners to help them survive post event!
A huge thanks goes to hosts Paul and Nicola Kilroe, who, year after year, put on a spectacular awards ceremony. An integral part of the Manchester business community, Paul and Nicola also host the Grafters, which recognise Greater Manchester's construction industry. They also manage The Boardroom, bringing Manchester's business leaders together to share views and news. They also continue to support children's charity, Kidscan, through every event organised.
Sponsoring such a prestigious event has been an absolute privilege and ended an incredible 2018 on an even bigger high!
For now though, all that's left to say is congratulations to all the winners and thanks for a fantastic evening!