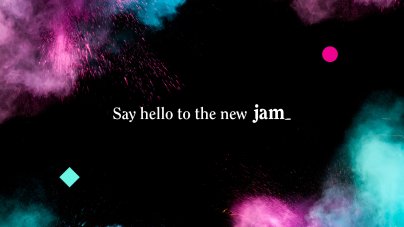 We're very excited to announce some huge news this week, as JAMpr and JAM Creative have joined forces to become Jam!
Our new identity comes just over a decade after the agency was established, and we've got a brand new website to showcase our integrated offering.
The new look Jam comes as part of the agency's progression into providing the whole integrated package for clients.
We have recently executed a number of fully integrated campaigns, including Transport for Greater Manchester's Christmas and Metrolink Monsters campaigns. We also delivered branding and an integrated launch campaign for our client Sync.
Our managing director and co-founder, Jaime Gee explains the decision to make the changes: "We have provided a wide range of solutions to clients over the past 12 years, including creative and digital services, as well as traditional PR.
"In helping clients meet their business objectives, our services have evolved in line with their requirements, which now sees us offering fully integrated solutions to achieve the right results.
"With varied and prized skill sets within the agency, and an increased demand for broader services, we made the strategic decision to reposition ourselves as an integrated agency, offering an holistic approach to all our work."
Our creative director and co-founder, Dave Gee has also been central to the changes at Jam Towers. Here's why he believed it was time to unite: "For some time now, Creative and PR clients have made use of the entire team. We reacted to this growing demand by taking Jam to the next level with a fully integrated solution.
"We've streamlined the brand in a similar fashion to how we've streamlined our services. The new clean look will enable us to better showcase all of our offerings under one roof, rather than having two separate identities for the PR and creative side of the business."
We're also thrilled to announce we've enjoyed a record year, increasing our turnover by 51% thanks to our new, integrated approach, along with onboarding new clients, such as Transport for Greater Manchester, Aviate, APJ Solicitors, MakeUrMove and Velcro.
As well as taking on new clients, we've seen some big changes in Jam Towers with internal promotions and new recruits. Creative extraordinaire, Lauren recently earned a well-deserved promotion to Senior Designer! We're also expanding on both our PR and Creative desks, with a number of new Jammers set to join the team over the coming months.
If you want us to work on your next integrated campaign, get in touch. Contact jaime@wearejam.agency or call the office on 0161 850 0565.