This week marks the 10th anniversary of our client, Survivors Manchester – a survivor-led/survivor-run voluntary organisation that aims to create and facilitate a safe space for male survivors of sexual abuse and rape to work through personal and sometimes painful issues.
Jam has worked with Survivors Manchester since its inception. Our Creative Director and Co-owner of Jam, Dave Gee, shares his memories on helping Survivors Manchester's founder, Duncan Craig bring his idea to life.
It started 10 years ago with scribbles on scraps of paper in a coffee shop, as most great ideas do. As the brainchild of Duncan, Survivors Manchester was always destined to make a significant and positive impact on the lives of men dealing with incredibly personal issues.
I met Duncan originally as a client in my previous agency days, and he came with me as a client when we founded Jam. Over the past 20 years he has become a great friend, as well as a trusted colleague.
Duncan came to me with more than an idea that day. It was clear from the discussions and Duncan's passion that this was to be more than a project; it was going to be a movement that would change lives and Jam was on board without hesitation.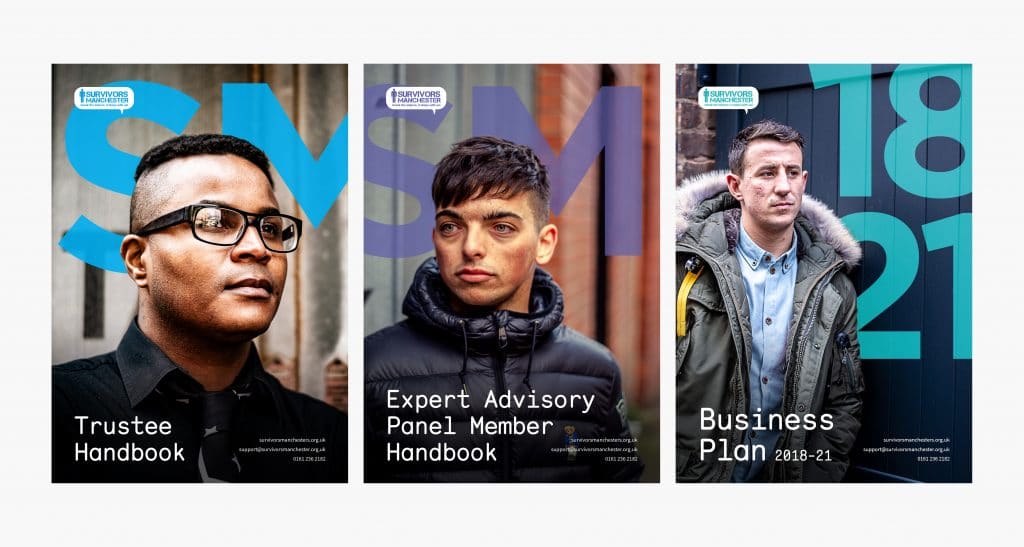 Duncan's inclusive attitude meant the charity's work would concentrate on empowering men to make their own positive life choices. It would allow them to begin their own unique journey of healing. This is a concept Duncan wanted to reflect in the development of the brand itself.
Rather than creating brand personas, we invited the 'survivors' themselves to be involved in the creative decision making from the outset, asking for valued input from closely run focus groups to see what worked and what appealed to the people the charity was to support.
The brand developed from there. It has always been fit for purpose, clear, structured and non-invasive. All of this was important considering the delicate subject matter and the audiences the charity speaks to.
The brand communication and style has adapted over the past decade. This is because people's awareness of the subject matter has positively changed, thanks to the hard work of Duncan and the Survivors team. But the original identity/brand mark has remained the same in its simple, bold, clear and raw execution.
Above all, the brand identity is a true example of creating what the audience welcomed most. It was contributed to by the people accessing the charity's services.
Here's to the next ten years of good client relations, and beyond
As an agency we're truly very proud of the brand's development over the years. It has been a pleasure to watch the charity grow from strength-to-strength. Survivors has helped thousands of men across Greater Manchester and beyond. It has been gratifying to be on a journey with Duncan and his team, constantly evolving his brand messaging to help others understand the amazing work they do and support other survivors.
And as we head into Survivors' tenth year, we're delighted to continue working with the charity to help develop its messaging. We're also looking forward to supporting the big plans they have for the coming year and beyond.
If you want an agency that takes pride in forming long-lasting client relationships, get in touch. Contact hello@wearejam.agency or call the office on 0161 850 0565.