With an estimated 85% reduction in footfall to retail stores during the lockdown period and most hospitality venues shutting down altogether, e-commerce has been the only way for many brands to stay afloat.
With more pressure than ever for online channels to perform, ensuring customers can easily find your products on search engines could have a solid effect on your bottom line. To get you started, here is our beginners guide to SEO for food and drink brands.
Organic traffic (website visits from search engines) is responsible for 53% of all web traffic. So, the majority of customers, even if they know your brand, will enter through a search engine results page (SERP).
Unlike paid advertising such as paid search, SEO is a long term strategy focused on user experience. Google, and other search engines like Bing, use complex algorithms to rank your website against other websites using factors such as the age of your site, website structure and the quality of your content. You can find out more about these ranking factors, here.
Search engines serve these rankings on SERPs. These pages are served to users by search engines when they make a search query. The purpose of SEO is to optimise your website so that you rank as high as possible on as many relevant SERPs as you can. The more pages you rank for and the higher in the rankings you are, the more qualified traffic you'll drive to your website and the more chance you'll have of converting.
Selling through search engines
While the current climate has forced many businesses to close, a focus on e-commerce could offer you a new revenue stream to make you more sustainable in the future. Every business has had to adapt, whether it's Heinz offering their first direct to consumer website or local bars and restaurants introducing new delivery and takeout services. With over half of all web traffic from search engines, SEO has to be a part of your digital strategy.
Are the users visiting from search engines likely to buy anything? Well, organic has an average conversion rate of 2.35%, which is second only to paid search. Organic traffic to your website is often from engaged consumers who know your brand or are already in the buying funnel for your products. So, how do you maximise on these opportunities?
Understanding search interest
SEO is all about understanding how potential customers search for products and services online. Once you have an understanding of that, you can start to either build or make changes to your website content. To influence any changes to your website content, you should always conduct keyword research.
Keyword research is the process of compiling and sorting relevant search queries. These search queries are the searches that prospective customers might make to find information on your products or services.
What you'll need: Access to a keyword research tool: Keyword Planner, Keywordtool.io
Think about your business, how would you describe yourself. Are you a restaurant, a wine shop, a food retailer. Do you sell a specific product? Think about what a user might search when they're looking for your services. Start putting in top-level terms. If you're a bar or restaurant, add your location to get a better gauge of local search interest.
What are your differentiators?
When you check for these very top-level terms, you'll see they have very high volume, so start looking at differentiators. Are you a Chinese restaurant, does your wine shop offer free tasters, or do you offer free delivery of your products? Do you offer any niche products or services?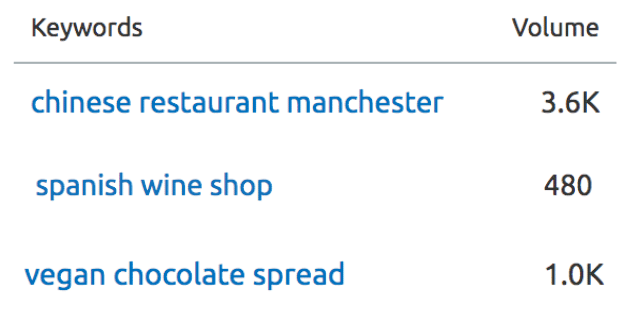 As a food and drink brand, you need to understand customer search intent. At which phase in the buying process are they and are there ways you can target them at every phase?
To make sure you're showing up in online 'best of' lists, make sure you're sending out samples for review to bloggers or working with media publications to get in their top 10. Try to naturally build links to your website from these publications – another ranking factor for Google's algorithm.

Do you have a blog post or informational page going in-depth about your product's ingredients? Make sure it's easily available for users and search engines to find and clearly labelled with relevant keywords.
Do you have a section of your online store that also lists the physical places your products are available? While many stores are still closed, they will re-open at some point and users may want the option to buy in person.

Content optimisation is a vital part of the SEO process. This is where you use your keyword research to write the content on your website. You should use these keywords in your metadata, page titles and copy of each page. Try to prioritise your keywords based on relevance, putting the most important top-level keywords in your titles and longer tail keywords in your copy.
Metadata is all the information that search engines use to serve your page to users on search engines. It might be the only thing that users see of your page, so make sure you spend time on it.
Your page title has a pixel limit of 558 pixels – anything over that and it might be cut off, leaving users without all the info they need. Page titles are a ranking factor, so use your key search terms in your titles to help increase visibility for product pages.

Your meta description has a pixel limit of 990 pixels. While meta descriptions are not a ranking factor they are your chance to sell your business. Lay out your key services and have a clear call to action for conversion focused pages.
Always be aware of the danger of 'keyword stuffing'. Keyword stuffing is an old-fashioned SEO technique where you stuff your website with as many keywords as possible to help improve your rankings. These days, that tactic simply won't fly with Google.
Remember that user experience is the most important thing so use keywords sparingly and only when relevant. If your website content doesn't flow, then don't shove in keywords for no reason – Google is sophisticated enough to now understand relevancy based on more than just the exact keywords you use.
To ensure you're able to capitalise on opportunities at every stage of the purchase funnel, you need a website that is up to the job. You may already have a website built for ecommerce, but implementing a clear structure will help users and search engines understand your offering better.
Example
You're an independent bistro moving into e-commerce. You want a space to sell your products but also space to share insights with your audience. You might want to create both a blog and a wine notes section. The blog for topical and company news and the wine notes section for more in-depth information.
Implement a clear hierarchy for your products. This might include broad product categories, which lead to more defined subcategories, which then lead to your list of products.
Without a hierarchy, search engines will find it harder to categorise your products and therefore rank you in relevant search results. Your hierarchy doesn't need to be complex but should be flexible enough to grow as your product line does.
Example
At your bistro, you also sell specialist ciders, beers and even food items to go alongside your drinks. You might decide to break down your wines by their country of origin, or by type – just make sure your decisions are backed up by keyword research.
Blogs, FAQs and Informational Content
While your product pages will be focused on attracting high volume search interest from broad product-focused keywords – your blog can provide an avenue for more specific keywords. For instance, during your keyword research, you might have found that there are 90 searches every month for 'red wine and vegetarian food pairing'. If you have the expertise in house, why not ask one of your sommeliers to give some insight on a tasting menu with recommendations on wine pairings.
Where possible, ensure that your blogs link to your own products. Not only will it mean users are more likely to convert, but you'll help to transfer any 'link authority' to your 'high-value pages' Link authority is the reward you get from search engines when other sites link to you. So, if your wine pairing guide gets featured on another website and they link to it, your 'internal link' to your product page could also see benefits on search engine results pages.
Tracking your campaign's success
So, how can you track the success of your work? While there are some fantastic in-depth tools out there, the search engines themselves actually provide a lot of the information for you. For example, they can help you see the average position your pages sit on results pages of the key terms you're tracking. That means you can start to understand where to focus your resources.
Rankings and organic traffic
So, if we return to our wine shop example, you might want to track head terms such as:
'Wine shop'
But you also might want to track longer tail keywords such as:
'Spanish wine shop'
'Wine tasting kit'
You'll know your work is having an effect if you start to see:
Increases in rankings for these search terms
You are ranking for new relevant search terms related to these search terms
Increases in overall organic traffic
Analytics and search console
We know from experience with many of our clients, how overwhelming Google's Analytics tools can be at first glance. To put it simply, Analytics and Search Console enable you to see how users arrive at your website and what they do when they're there.
Analytics can show you where users come from and enable you to track the success and value of campaigns.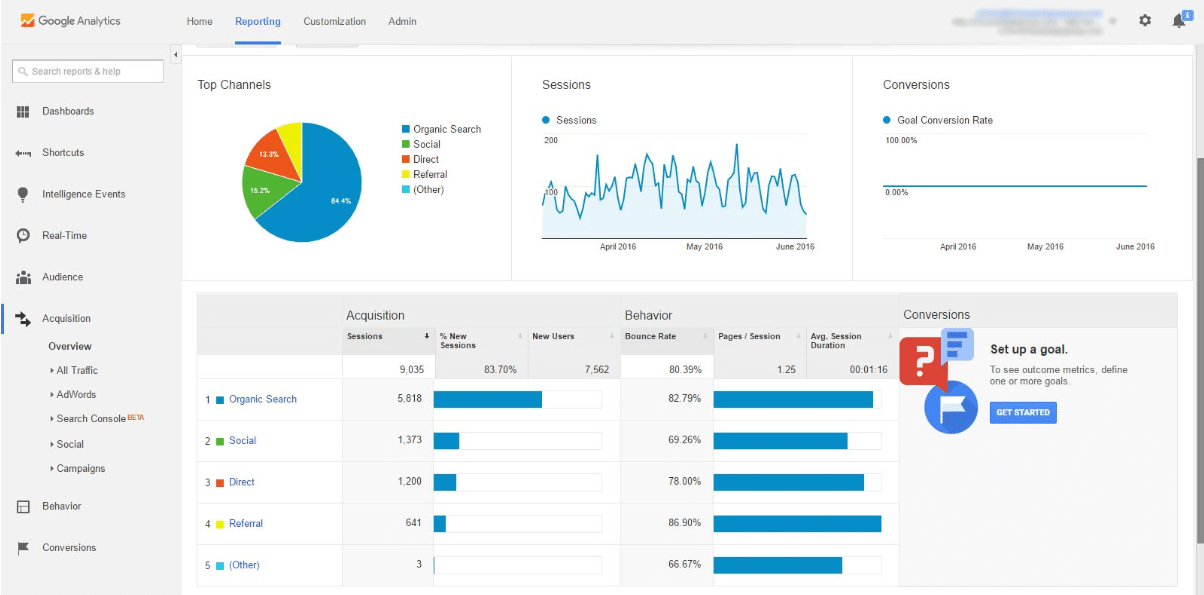 Search Console is the tool you'll need to dig down into the specific search queries that are driving traffic to your website.
If you're setup correctly, you should be able to follow a user journey from:
1. A user searching for a product
2. Clicking on your result
3. Browsing your product category
4. Purchasing your product
If you can track this journey, you can start to effectively report on the success of your SEO strategy.
From website build to ongoing SEO support – we take a fully integrated approach to our digital strategies. If you need support building a comprehensive SEO strategy – get in touch below to see how we can help increase your organic traffic and visibility.