After 14 years of building and resdesigning websites for a variety of clients, we've seen the good, the bad and the ugly. While a good website will require significant investment, it isn't all about how much you spend. A website is just one part of your digital strategy and without a defined goal and marketing tactics – it may not offer the return on investment you expect. 
From UX (user experience) to social media, we're here to cover why an integrated agency is best placed to deliver a website that can help you achieve your goals.
Why your website isn't working
If you're reading this article, your website probably isn't working as well as you'd like it to. Here are some of the most common reasons why:
As a service provider, your job is to get customers from A to B as quickly as possible. In this case, A is entering your website and B is taking an action (making an enquiry, buying a product). The longer and more complicated the experience is for a customer, the less likely they are to make it to the end, which is where you make a profit.
In the physical world, you'll see bad UX in the form of long queues, poor customer service and bad shop layouts. Online, you get slow load times (Google found that bounce probability increases by 90% when load speed drops from 1 second to five seconds), dead-end links, search bars that don't work and forms requesting unnecessary details. These are just as off putting to a customer as physical barriers in the real world.
It's an unwelcoming shopfront
1.8 billion people shop online every year, spending around $2.8 trillion. Online searches are where you'll generate the most footfall – in fact, 53% of all web traffic comes from search engines.
When users search for your products they'll be served with results on search engine results pages. If you haven't optimised your site's metadata, users simply won't click. After all, you wouldn't go into a dirty shop with terrible lighting and rude staff.
There are 1.7 billion websites online and that number increases every second. So what makes yours stand out? Does your brand have a strong identity backed up by brand guidelines? This will ensure you are projecting the image you want across all of your owned channels.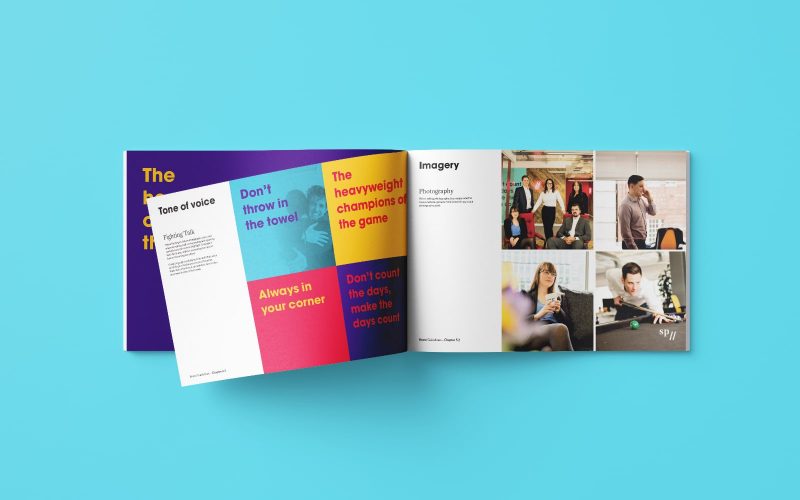 Our brand guidelines for Strategic People.
You can't tell us why it's there
When you invest in a website, you should be clear on what you expect back so it can be designed to deliver. It might be to drive online sales, encourage contact form enquiries, or simply just to share important information with your target audience. Without a goal, you won't be able to judge the success of your website and you'll never really know how much value it is offering.
How an integrated agency can solve this problem
The job of an integrated agency is to work with you to set your goals and provide a holistic strategy to help you get there. By incorporating your website into your overall marketing strategy from the beginning it can become an incredibly powerful tool. Here's how an integrated marketing agency, like Jam, can help.
The whole process is in one place
Hate playing piggy in the middle between various agencies? Doubling up on sign-offs and relaying messages isn't a valuable use of your time. It makes sense to have a team that has a united approach and is clear on the end goal. 
Our work on the website of renowned leisure and hospitality venue, Printworks.
From design concept, to keyword research, to wireframes, to the fine-tuning, the entire team at an integrated agency is involved throughout the process. Building a website is complicated enough, but an 'assembly line' approach with different tasks split between agencies will make it truncated and disjointed. 
With the power of search engine optimisation and analytics, your website will be built with the customer's needs in mind. We can delve into how your customers travel through your current website, and where they're ending up or dropping off, to make sure that we're engaging them in the right way. Then, when you're up and running, we'll continue to use that data to improve your website as it grows.
Once the site is up and running, you need to tell people all about it. That's where an agency with PR and social media skills really comes in handy. You can have the best website out there, but it means nothing if nobody visits it.
Alongside your vital SEO work, an integrated agency will drive your target audience to your website through engaging press coverage and targeted social media campaigns. This team has been with you since the start so who better to target your audience with your goals in mind?
Social media posts promoting our work with Koura, a global leader in the development, manufacture and supply of fluoroproducts.
We'll continue to provide support
Don't think that just because your site is live, that's the end of it. Websites need to be updated with fresh content, new landing pages for your products and services and maintained with the latest plugins. If you want to see how you're performing, you'll also need technical insights.
Working with an agency will allow you to see monthly reports packed with audience and sales insights on a level you may not have had access to before. We use metrics including keyword rankings, conversions and time-on-site to help you understand how successful our work has been. We place these insights alongside your other marketing metrics so you can see how they're all working together.
We've built stunning websites for the likes of leisure destination Printworks and Apple Authorised retailer Sync as part of integrated strategies including social media, PR and events. Get in touch to see how we can help your company achieve your goals with a website that gets results – hello@wearejam.agency.