Football leagues around the world are currently making tough decisions on the end of the 2019/20 season. As things stand, France has taken the plunge and awarded PSG the title, while The Netherlands has decided to cancel all promotions and relegations. While we wait for Project Restart on June 17th, Premier League fans like us are twiddling our thumbs come three o'clock on a Saturday.
While Manchester City superfan Liam Gallagher has already given his own scathing verdict on next season's city shirt, our creative team have been a bit more kind. Here are our favourite kits from this season – there are some corkers!
There's a distinct lack of love for the Football League on annual kit reviews, so we're redressing the balance! We kick off with a short trip to Pride Park, with Derby County's slick and simple home shirt.
This year's strip is a twist on a classic: the usual white strip but with the addition of some eye-catching gradient-striped sleeves. After narrowly missing out on promotion last season, they've not been able to match the same quality on the pitch this year- but at least they look good!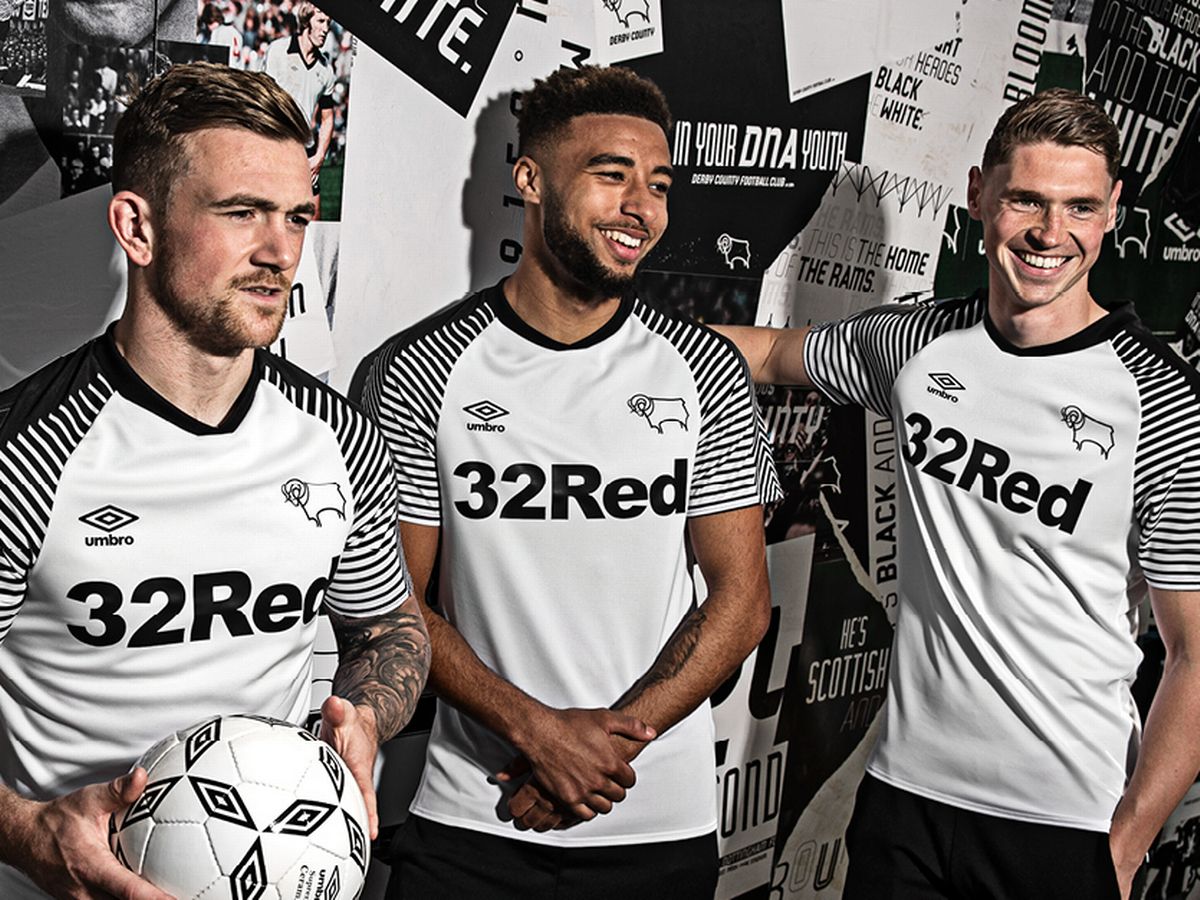 Honourable mentions to a few more of the Football league's finest kits. We love Hull's homage to their iconic 1993/94 full tiger print kit, Brentford's classy 'Farewell Griffin Park' third shirt, and Bristol City's crazy geometric goalkeeper kits.
Whether you love them or hate them, 3rd kits are here to stay – and Nike works with a lot of the biggest football clubs in the world. This season's editions utilise the classic Futura logo, which featured heavily on football shirts between 1994 and 1998. The 90s inspired designs feature thick collar trims, intricate pattern designs and a retro colour palette.
We're big fans of Spurs and Inter's kits but that Barcelona kit has to be our favourite. You can't look at it without thinking of original Ronaldo smashing them in at the Camp Nou all those years ago.
Juventus 4th (Palace Skateboarding Collab)
If you're sick of 3rd kits then you're not going to be happy with this one. Yes, that's right, it's Juventus' 4th kit. This one is for all you 'hype beasts out there' and is the next in a line of collaborations between football clubs and streetwear brands. The trend was catapulted to the mainstream after last season's PSG and Air Jordan collaboration.
After signing Cristiano Ronaldo, Italy's biggest club has ramped up its marketing efforts. The collaboration with Palace is the biggest signal yet that the 'Old Lady' of Italian football is freshening up her look for a new, younger football audience. The shirt itself, which retails at an eye-watering £230, features a distinctive neon green logo and sees the brand's famous black and white stripes dissolve into black and white checks at the bottom of the shirt. Buonissimo!
An arguably less glamorous collaboration, this time in the Midlands, between Danish sportswear brand, Hummel, and Coventry City. Another fine example of a Football League club stepping up their kit designs while results haven't been great on the pitch. Inspired by a classic 80s design first worn by a Danish league side, but made famous by Coventry and other English clubs, this kit brings the two brands back together over 30 years later. 
The design sees the classic pinstripe quartered shirt updated with gradients and two different stripe widths with the traditional Hummel chevrons down the sleeves – this one's all about the nostalgia!
Internazionale (Home & Away)
The 'Nerazzurri' are famous for their bold blue and black stripes, but we're picking out their away strip as a standout. This year, the kit is a bright teal, with black and gold collar and sleeves, and an adapted gold monotone badge to finish it off. You'll be hard to miss on a football pitch in this one.
Despite its legendary status, the home kit has had a bit of a revamp too. The classic stripes have been flipped on their head, with a diagonal design in the centre of the shirt framing the now synonymous Pirelli Tyres sponsor banner. A simple white trim along the sleeves and collar wrap up the design perfectly.
When we're not drooling over football kits, we're creating standout designs for a variety of brands across leisure, food and drink and personal finance. Check out some of our work here and get in touch to see how we could make your brand stand out at hello@wearejam.agency.