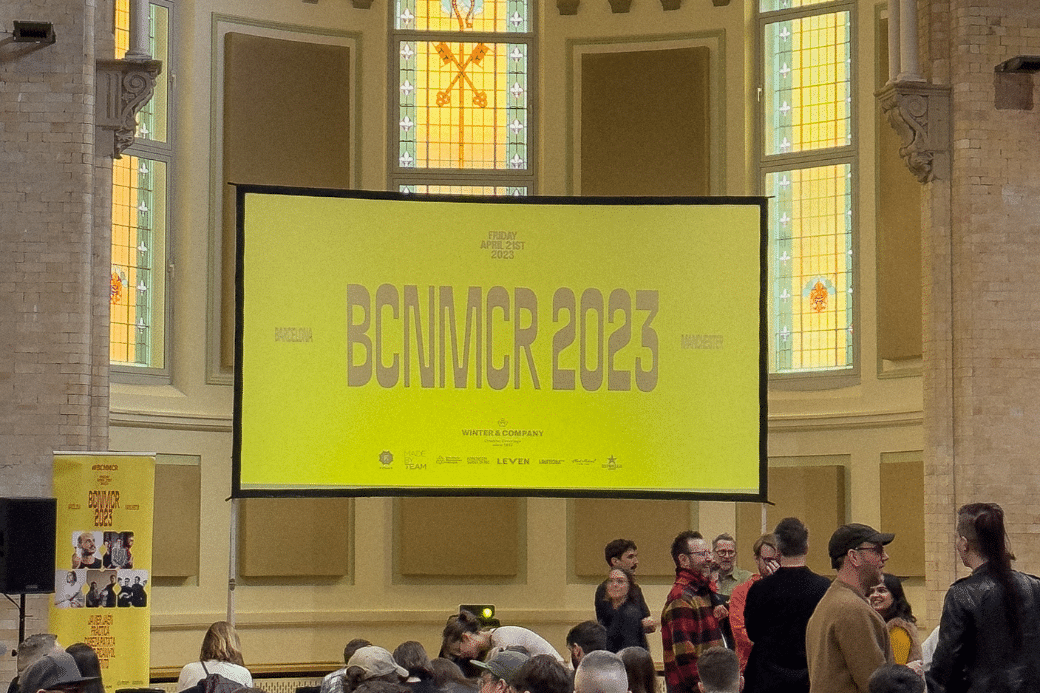 Jam's Lead Creative, Dan Muir, and Senior Creative, Danny Webster, recently attended BCNMCR, a design event showcasing some of Barcelona's most innovative, original, and outstanding agencies and individuals. The event featured an incredible lineup of speakers, including Lo Siento, Javier Jaén, Ingrid Picanyol, Pràctica, and Cabeza Patata, and was chaired by writer and former Creative Review editor Patrick Burgoyne, and Studio DBD's David Sedgwick.
Cabeza Patata says no
One of our favourite talks of the day was by Cabeza Patata, a multidisciplinary studio specialising in character design. With a focus on diversity and female empowerment, Cabeza Patata creates a world of playful characters filled with energy and positivity. The core message of their talk was the importance of saying no:
It's okay to say no – saying no isn't a bad thing as it allows you to focus on the areas that you want to work on, with the clients you want to work with. It allows you to avoid projects that simply aren't worth it, whether they have a small budget, excessive demands, or an extremely tight turnaround.
Sometimes a yes can change to a no, and vice versa – within reason, you can always change your mind, especially if something isn't right for you.
Saying no to the normal process is good – if you work in your own way, you have the opportunity to do something better or more efficiently, rather than simply always sticking to the norms.
Cut out the middlemen – even if it's the norm to work with illustration agents, it'll work out better for you if you have direct contact with the client, this cuts out unnecessary back and forth, whilst giving you more control over the output.
Saying no has taught Cabeza Patata a powerful lesson that has helped their studio to grow quicker than expected. It can be easy to say yes to every opportunity, but it's about having the strength to stick to your values (and ultimately, gut feeling). By saying no, we can save time, energy and money on projects that can lead to better work and bigger projects.
Ingrid Picanyol on briefing
Ingrid Picanyol, an internationally award-winning Creative Director based in Barcelona, shared her experience working with the Torelló Mountain Film Festival.
After 14 years of the creative brief being quite loose and accumulating random designs each year, Picanyol implemented a running theme that could be used as a starting point: each year, she picks a mountain location and focuses on an ecological or sociological issue related to it, whether past or present. By doing this, she's given herself a clear brief while allowing herself to explore topics that genuinely interest her, which ultimately leads to better work.
Pràctica on finding inspiration
Anna Berbiela, Co-Founder of Pràctica, a design and identity studio based in Barcelona and New York, discussed idea generation and the challenges of coming up with new concepts for recurring clients. By pushing themselves to find fresh inspiration tied to a location, Pràctica has consistently delivered exceptional work. Berbiela also touched on the projects they worked on that didn't go live, reminding us that not every project sees the light of day.
Lo Siento don't let a good idea go to waste
The team at Lo Siento, a studio focused on multifaceted and multipurpose identity projects, shared their practice of turning unused client ideas into personal projects. This approach not only boosts team morale, but also serves as an excellent showcase for potential clients who discover their work through social media.
Our key takeaways
The BCNMCR conference left a lasting impression on our creative team. It was inspiring to hear from some of Barcelona's top creative minds and to learn about their processes, challenges, and successes. As we reflect on the talks, we find ourselves relating to the experiences shared and the issues faced.
This event has undoubtedly provided us with valuable insights and inspiration that we will carry with us in our future projects:
We're eager to use more hands-on and physical techniques as per Lo Siento studio, and be sure to not always disregard those unused ideas when not selected by clients.
Taking inspiration from Pràctica, and making sure to get out and about in the real world when researching to find that nugget of inspiration that can be the hook on which a campaign or brand can be drawn on. Giving a project brief time to breathe, final outputs for the brand or client creative will always have a more authentic approach.
Finally, knowing when to say no, to take control of projects whether internal or client work. This can help boost morale and create a better work environment, and therefore produce better results.
We left feeling inspired, motivated, and ready to tackle our own projects with renewed vigour and creativity.