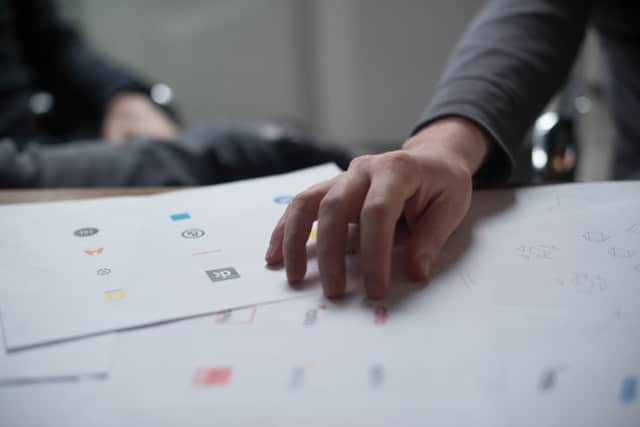 Your brand identity is a major part of your business' equity and plays a huge role in the creation of instant brand recognition. For that reason, it needs to stand the test of time.
Make sure your brand identity is memorable and reflects your business' values by investing in it.
Here are four reasons why you need to invest in your brand identity.
Creating a visual impression of your business
Your brand identity, which encompasses your logo, colour palette, and key messaging, is essentially the face of your business. For many people it is also the first impression they'll get of your company.
You may have all the credentials and achievements to shout about. However, many people will judge you on your brand identity as a reflection of your work. The visual understanding of your brand will initiate the first point of contact.
As many people take into account the visual identity of your business, you want to ensure you're forming the right public perception of your brand. As a result, settling for a trendy £5 logo from a random website would be a big mistake.
Instead, you need an agency who can offer the market research, trust, creative experience and knowledge, and most importantly, an objective and outsider's perspective.  
A strong brand identity can create trust
If you take a look at your closest competitors within your field, you'll probably find they already have a solid and consistent visual cue to market themselves.
For many people, finding the "right" logo to represent your brand is seen as an afterthought and something to focus on when your business is finally doing well. However, don't be the brand who waits until it's too late.
If you look at large brands, such as Nike and McDonalds, you'll notice that they typically all have kept similar iterations of their brand logo throughout the years and their success.
You shouldn't wait to see growth within your business before opting to create your brand identity, as this could cause confusion to your existing customer base.
By waiting until your business experiences growth to create the brand look you want, you're essentially starting from scratch. Any trust customers may have had in your brand has to be reacclimated to your new look.
Sure, logos can change throughout time. Even brands like Apple and Microsoft modernise their logos every few years. This is so they can reflect their changing values and reach out to new potential customers. However, their brand still remains somewhat familiar. This is to maintain trust and relatability with their existing customers.
A good logo and brand identity doesn't change, it just grows older and wiser with your company.
Building perceptions of your business
In order to reach your target audience, it's important to build up the ideal perceptions of your business. This is so that they'll be at the forefront of their minds.
When we're branding a company, we start by learning about your target audience's demographics, such as attitudes, behaviours, and habits. From this, we can get a better understanding into how best to appeal to your target audience with certain typefaces, colour palettes and other visual communication.
Having this insight is crucial for creating a visual identity and building up trust of your brand. When you see a logo or brand you trust, you expect a certain level of quality and reliability from their business. This is regardless of what you actually know about them.
Standing out from the crowd
Your brand identity gives you the opportunity to highlight the uniqueness of your company while saying the right things to the right people in the right way. By investing in a logo as part of your brand identity, you are investing in a way to stand out in the market.
While having a logo that is aesthetically pleasing is crucial, it is important that your entire brand identity is cohesive across all your communication. You want something that your audience will respond to and will resonate with them.
One of the benefits of having a brand identity that stands out from the crowd is having an instant recall. As soon as people see your logo, you want them to know who your company is and what you do. This is especially true when all your marketing materials will house your logo. You need to ensure you're creating a strong first impression.
When it comes to creating a well-executed brand identity, half the battle is market research. However, we can help you understand what your business stands for, its goals and who your audience is.
Bargain logos lack the authenticity you get when paying for quality. Why not work with an agency to help you develop a strong brand identity that aligns with your business strategy? This can be critical for ensuring your business grows effectively.
If you're looking to create or refresh your brand identity, get in touch at hello@wearejam.agency or call 0161 860 0565 to see how we can support you!