Every company's brand starts somewhere, perhaps you've developed a logo, come up with key messaging, created a website and launched your social media channels. Then you begin to create marketing literature, you may start with business cards and letterheads, followed by brochures or adverts but have you considered how all of these elements maintain a level of consistency? Consistency is key to building a recognisable brand and this is where brand guidelines come in. 
1. What are brand guidelines?
Brand guidelines, sometimes called a brand pack or style guide, are a set of rules used by companies to make sure their message is consistent when delivering to their audience.
Usually created during the initial brand development, they set the standards that the company should adhere to throughout a brand's life-cycle. Your guidelines should advise on how your brand identity should be used, and definitely how it should not be used. Include fonts, colourways, sizing and the correct placement of visuals. Brand guidelines are not just visual. Ideally, they should include your values, your brand personality (go as far as introducing a pen portrait of who your brand would be as a person), your agreed tone of voice and use of language to ensure your messaging is clear.
Guidelines can also be created further down the line, when a brand has had a chance to live and breathe and figure out what works best across various platforms. It's not uncommon for brand guidelines to be living documents that alter and change as the company develops.
2. Why should you have guidelines?
"Design is the silent ambassador of your brand"
Paul Rand
Brand guidelines help create a strong brand identity through consistency. Strict guidelines on how your brand should look, feel and sound across different formats make creating this identity much easier. You may think if you have a logo, a company font and a brand colour you're set, but this doesn't consider the bigger picture. You should consider, for example, how your logo and strapline work when you're delivering your message to your customers or clients, but also:
How your logo looks in a single colour or monotone
Where should your logo and strapline sit on an advert or a poster?
Do you have a colour palette that is relevant to your industry and will resonate with your audience?
Is your website's copy consistent with your social media presence?
Are your company values instantly identifiable?
This is where brand guidelines come in, it also helps your employees know how to use your branding in the correct way, in the minimum size, in the right position and in the right shade. If your Marketing Manager, in-house designer or design agency aren't available, it helps colleagues to decipher if they are using your brand in the right way as per company guidelines. Again, consistency is key.
3. How the top brands do it
You can recognise those golden arches at a glance, because they're consistent – that's not a mistake. Turner Duckworth's recent refresh of  McDonald's brand guidelines detail how much of the famous gold and red must be used in creative. We're lovin' the super-detailed guidelines that keep the global brand so instantly recognisable.
Good guidelines – tick! Nike's football brand guidelines are a brilliant example of how to deliver a brand message clearly and consistently across multiple languages. Throughout the document, you get a sense of the energy they are trying to convey through their use of imagery and simple, bold typography.
4. How we do it 
We recently created the brand guidelines for The Stoller Hall in Manchester. The chamber music venue wanted to position themselves as an exceptional and eclectic music venue in Manchester with national and international significance. They approached us to create a clear brand identity and tone of voice to use across print and digital. 
Using our knowledge of their audience demographic and to help achieve their business objectives, we updated their colour palette and used the current logo in a much more dynamic way to help appeal to a younger, more social media driven audience. We also restructured the layouts for various applications including social media banners, adverts and web banners to ensure messaging was clear and engaging, as well as to improve user experience on the website.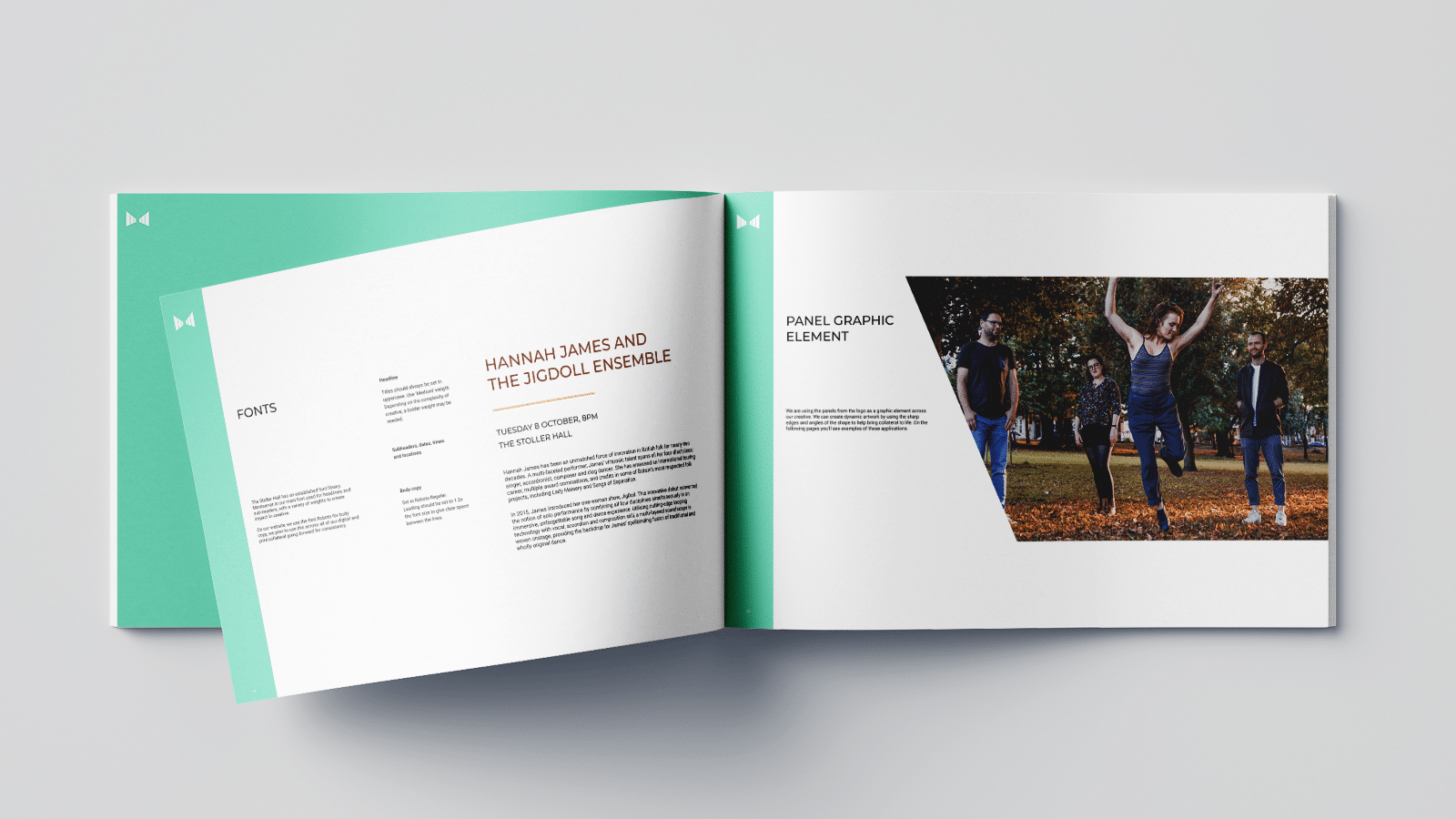 Alongside this, we created a friendly, informative tone of voice to ensure the brand could effectively communicate across multiple platforms to their various target audiences. 
5. The future of brand guidelines 
In the past, brand guidelines have been big books that would collect dust in design studios. Now, we have the tools that help make them much more accessible. 
Uber's online brand guidelines are a great example of how the transition to digital has changed the way brand guidelines are used. No longer do designers have to wait and ask a client for a logo or colour palette, neither do they have to sift through a whole PDF document looking for the minimum size to use a logo in print. Yawn! 
It's also useful for brands, as changes can be easily made without creating a whole new document and sending out to suppliers. It also allows a place to store assets, making them easily downloadable at any time of day.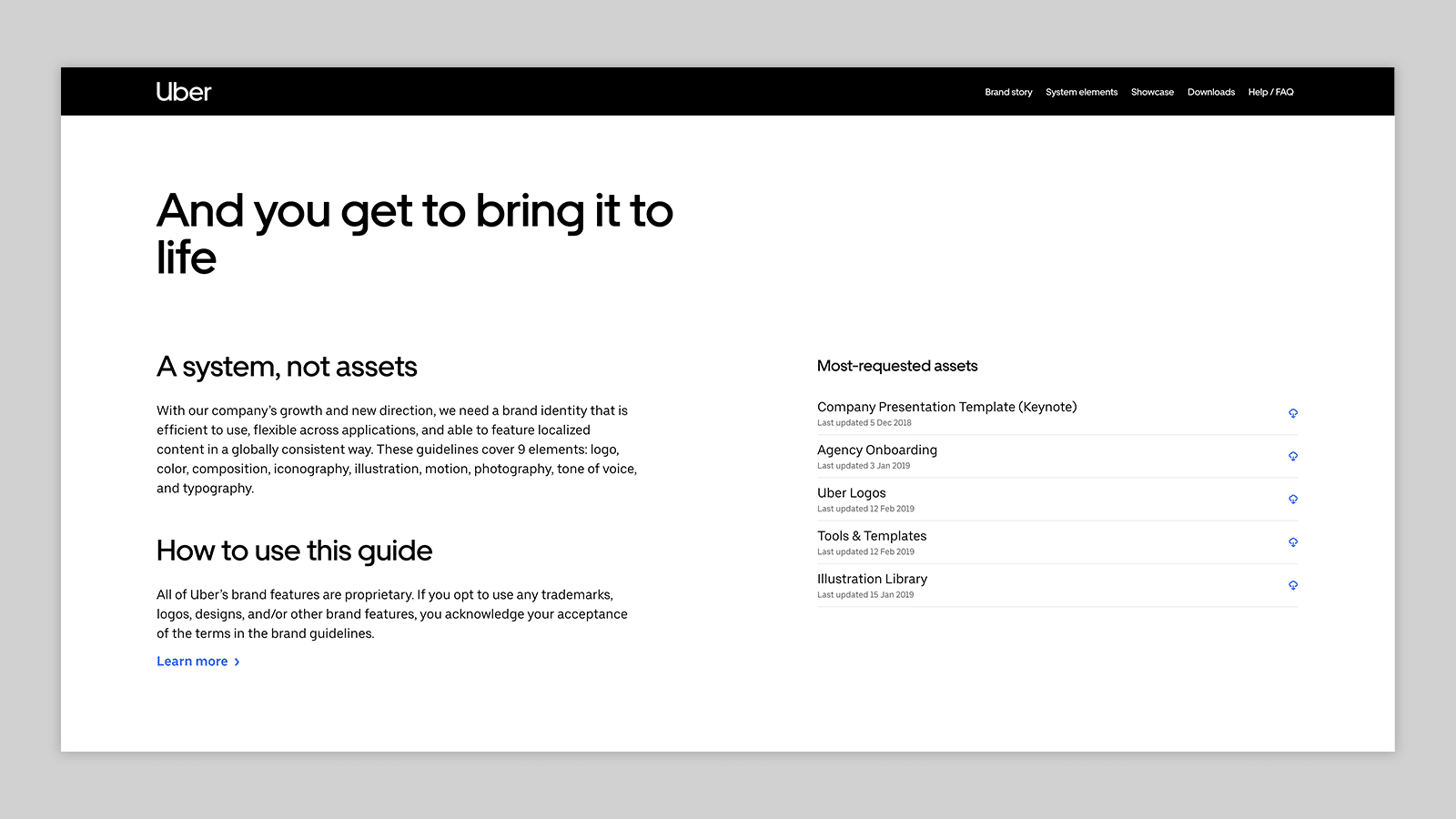 And remember…
"The purpose of a brand guidelines is consistency."
 Aaron Poe, Creative Director at Ueno
If you're looking to create or refresh your brand guidelines, get in touch at hello@wearejam.agency or call 0161 860 0565 to see how we can help you!